Emergency Locksmith in Northfleet
Locked out? Our locksmiths can assist you whether you're locked out of your home, car, or office. We offer locksmith services with fast response times. All of our emergency locksmiths are mobile, fast, and can be at your site within 30 minutes.
Emergency 24hr Locksmith Service
Those who lock their keys inside their house or vehicle or lose or steal their keys are among the most common emergency call we get. This emergency locksmith situation caught the individuals off guard since they did not anticipate it.
These are some of the services our emergency locksmiths offer:
Home Lockouts
Car Lockouts
Jammed Ignition Key Extraction
Safe Opening/Office Lockouts
Broken Lock Repairs
Lock Replacements
Burglary Repairs
The Northfleet local emergency locksmith team is always on call to help you in case of an emergency locksmith needs 24 hours a day, seven days a week. There are emergency locksmiths in every neighbourhood. Furthermore, our locksmiths have every tool at their disposal that they need for every emergency they may encounter. We will have the nearest mobile locksmith arrive within 30 minutes after you call our emergency locksmith hotline, so you can get your locks fixed immediately.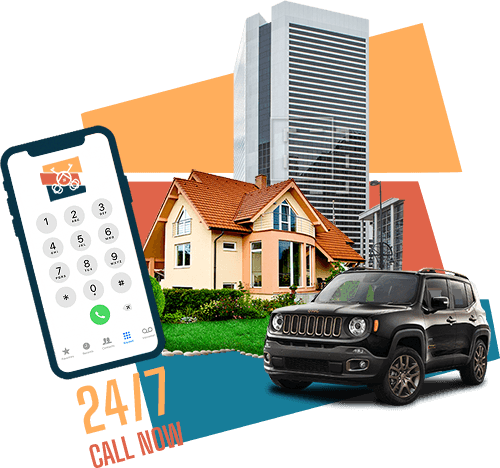 Fast Response Emergency Home Locksmiths
Home security issues can make you feel vulnerable until you have a solution. No matter what happens, Tone Locksmiths of Northfleet will be there for you within minutes.
Locked Out
Locking yourself out of your house is a frustrating experience. Never fear! We'll respond quickly and provide friendly, professional service when you call us. You can count on us to help you reenter your home safely.
Burglary Response
You're even worse off if you discover you've been robbed. There is either a lockpick, a forced entry point, or someone who has found a security vulnerability to exploit. Our locksmiths can meet your needs and make your home secure again. We can rekey your locks or install new ones. Changing the code on your alarm system can help prevent home burglaries, as can checking the locks on your garage door, a popular entry point for burglars. We can assess your situation and offer suggestions for prevention. Perhaps that strike plate wasn't strong enough, or both sides of the glass door needed locks. We've got you covered, no matter your needs.
We are the best Northfleet emergency locksmith service in the area because our residential locksmiths are experienced, qualified and reliable.
Fast Response Emergency Car Locksmiths in Northfleet
Our vehicles have become much safer over the past 20 years because car manufacturers have implemented new and more advanced security features. They've also become much more technological. You should hire a professional car locksmith to deal with your issue. Our auto locksmiths can get you out of any jam with their tools and know-how. Whether you need to get into your car without causing damage or remove the key stuck in the ignition, we can help. We'll reach you quickly, perform the job professionally, and have you on your way as soon as possible. You can count on our Locksmiths to help you out at an affordable rate that won't break the bank.
Office Lockout Emergencies
If there has been a breach in your business security or if you are locked out of your office, call an emergency locksmith immediately! Perhaps a corporate spy is at work, or it might just be a burglary. Or maybe it's a disgruntled ex-employee trying to take revenge on the company. Regardless of the reason for the break-in, it is wise to make sure that all of your office's locks have been replaced, that the alarm codes have been changed and that all of the filing cabinet locks have been updated. Moreover, a locksmith assessment can identify weak points in entry into your building where the break-in happened so that it won't occur again.
Tone Locksmiths of Northfleet Call us at 01474 556353 now!